39,00 €
Their tragic fate coincided with the rising of their legend. Fighting bravery, huge financial power, mysterious rituals, hidden treasure, unfair trials, cruel deaths, frightening curse…
– Walking tour – 2 hours
– Meeting point: Square du Vert Galant, 15 place du Pont Neuf – 75001 – Paris
– Option: A drink at bar « Les Chouettes », built into the corner tower of the Knight Templars fortress in Paris.
Description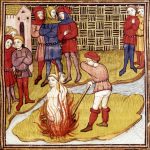 Walking on the footsteps of the famous knights Templar in white mantle with red cross. This brand new original itinerary will lead you from Square du Vert-Galant in Île de la Cité, where the Grand Master Jacques de Molay was burned at stake in Paris in 1314 by order of King Philip IV « the Fair », to Square du Temple, where the Templars had their Parisian headquarter and where they were arrested. You will feel their mysterious presence through ancient walls, strange doors, old streets, forgotten cemetery, impressive mansions and churches, and evocative street name signs. Bonus: sipping a drink in a bar built into the corner tower of the medieval wall surrounding their fortress in Paris.
Informations complémentaires