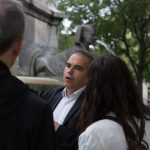 I am an insatiable Paris lover and a writer of history books. As many Parisians, I was not born in Paris but moved here by choice, as a student. I never left since. I am passionate about history. Who wouldn't be, coming from the beautiful area of Touraine, in the Loire valley, where one can't make a step without stumbling upon some old castle?
I am published writer (L'Histoire c'est trop con—History By Mistake, 2013; Deux dans l'enfer—Two Tickets To Hell, 2014; La sexualité dans l'Egypte antique—Sexuality in Ancient Egypt, 2015; Lettres interdites—Stolen letters, 2016, The Knight Templars, 2018). My modus operandi is connecting dots and turning facts into a captivating story.
As a licensed, private tour guide, I provide private tours of museums, monuments and neighborhoods in Paris and around. You can choose into the program below or request a personalized visit according to your needs (see some requested and personalized visits here). Holding the French National Tour Guide License, I am authorized to book and to guide you into all French museums and monuments, in French and English, always with skip-the-line access. 
For business visits and conferences, Learning Expedition and Executive Learning
Museums and monuments
– Louvre museum private tour (only you and your loved ones)
– Louvre museum (3 hours, 25 masterpieces + Napoléon III apartements)
– Versailles Palace.
– Versailles Palace + gardens, Trianon, Marie-Antoinette's hamlet.
– Notre-Dame (Inside, Towers)
– Sensuality and Pleasures of Ancient Egypt (The Louvre, Department of Egyptian Antiquities)
– Orsay Museum
– Sainte-Chapelle & Conciergerie (prison of Marie-Antoinette)
– Giverny: Claude Monet's house and gardens
– Catacombes
– Parisian Passages
– Musée des Arts et Métiers (Industrial design museum)
– Street art tour
– Basilica of St-Denis (burial place of the Kings and Queens of France)
– Château de Vincennes (royal fortress of St-Louis and Charles V)
Neighborhoods of Paris
– Saint-Germain-des-Prés
– Montmartre
– Marais
– Latin Quarter
– In the footsteps of the Knights Templar in Paris, unique, original guided tour.